If you want to create your dream home in the heart of Berlin, GLINT offers you the perfect solution. By merging the two rooftop apartments L25 RT and L26 RT, you get approx. 600 square metres of space, which you can design however you like. This size is an absolute rarity in the centre of the capital. Find out what living in our extra-large penthouse apartment in Berlin could mean for you.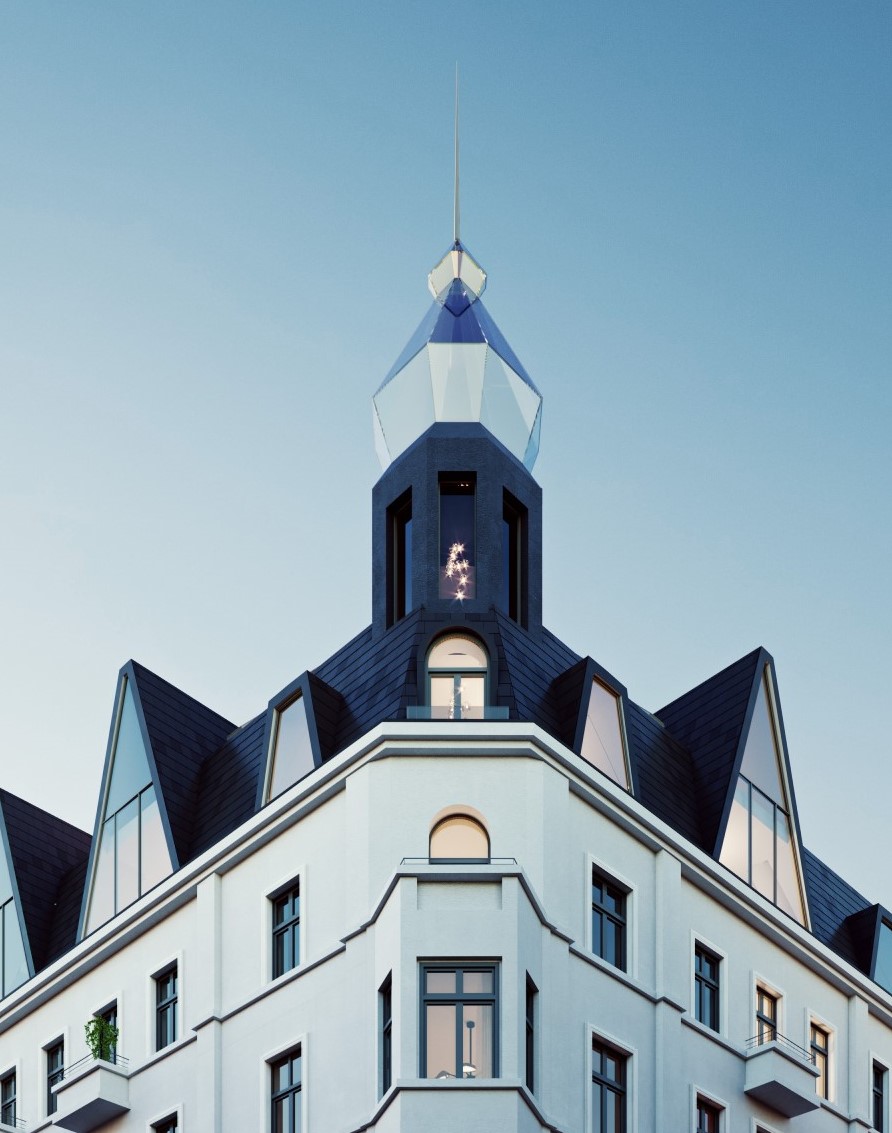 The 600 square meters rooftop apartment in detail
GLINT has several unique rooftop apartments. Two of these apartments, L25 RT and L26 RT, can be structurally connected on request, with the end result being a roomy 600 square metres space and an authentic Berlin loft atmosphere. Additionally, the especially large roof terrace apartment, "The 600" has many other advantages.
The apartment grants you access to the jewel of the property, the glass dome with a 360-degree view over the city, which you can reach via an elegant spiral staircase. Enjoy your morning coffee while letting your gaze wander over the historic Gendarmenmarkt. You won't want to miss this panoramic experience.
The two roof terraces add to the spaciousness of the penthouse apartment. The first outdoor area is east-west-facing and expansive at 41 square metres. The second south-facing roof terrace also offers plenty of space at 30 square metres. Perfect in summer, you can experience a real rooftop feeling in Berlin with a cool drink here. And thanks to the partial roofing, you can retreat into the shade at any time.
The roof terraces can also be individually adapted to your wishes. A green oasis above is just as possible as a wellness area with a sauna and outdoor whirlpool. Do you like cooking outdoors? Then use one of your terraces as an outdoor kitchen. There are no limits to your creativity, we make your wishes a reality by working together with you.



Plenty of light and space for living in optimal comfort
The light, open living atmosphere is also continued in the interior of the apartment. The elegant dormer windows especially contribute to this. With ceiling heights of up to 4.10 metres, the apartment is always flooded with light and is enhanced by the high-quality studio glazing. This brightness creates an inspiring, liberating living space throughout the day.
When you feel the need for warmth in the evenings, you can enjoy two existing chimney connections. The installation of a modern design fireplace is just as possible as a traditional country house fireplace. You decide which style will help make the apartment feel like home.
Many other details, such as the impressive ceiling heights, the modern window fronts and the underground parking spaces with electric speed charging capability make the GLINT rooftop apartment "The 600" a very special property in Berlin. And with the direct elevator, you can easily and comfortably reach the entrance area of your loft apartment. If you are looking for exclusive, high-quality living in the middle of the city, GLINT is an excellent option.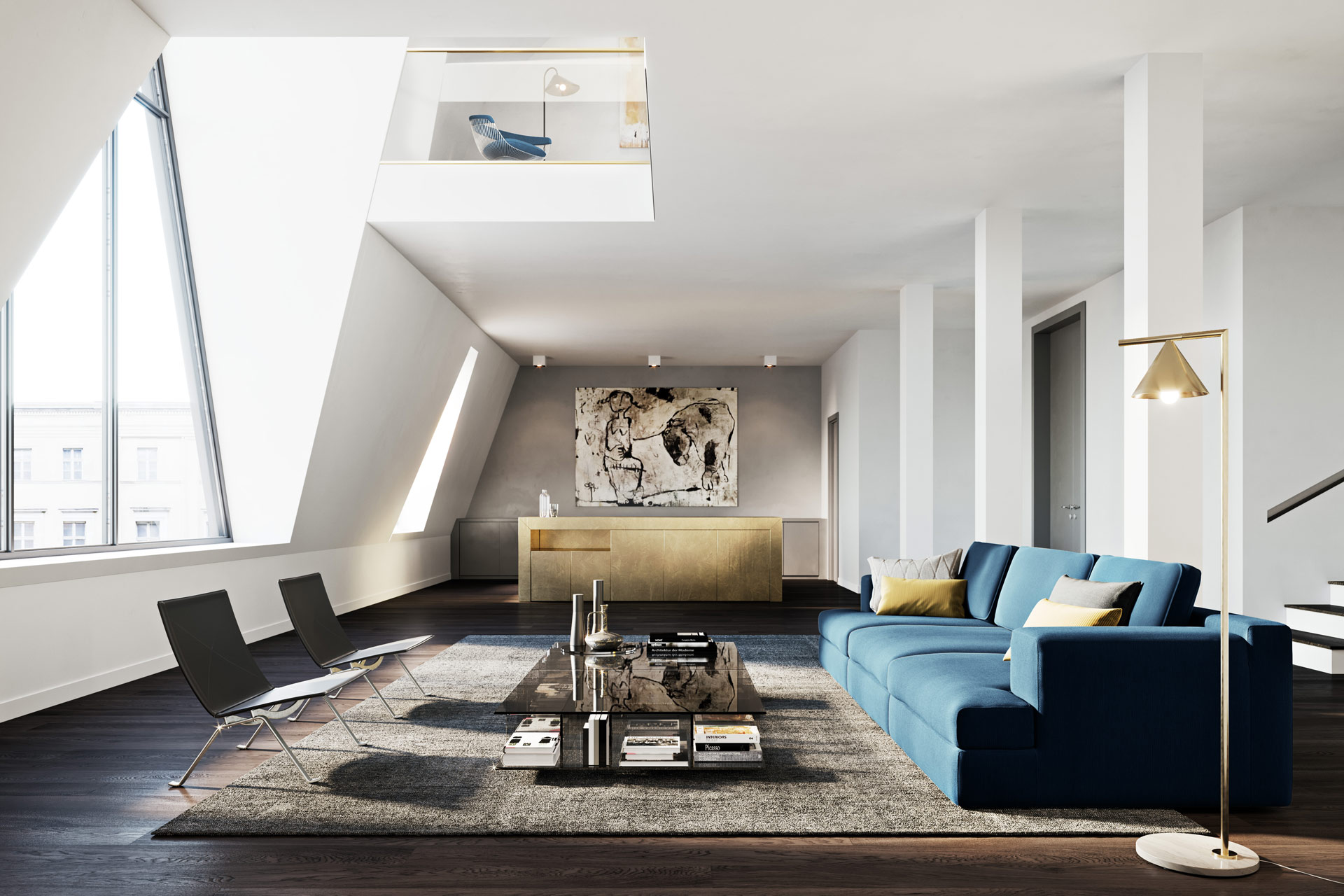 Ideas for the design of the GLINT penthouse apartment
A 600 square metre space offers plenty of room to implement individual structural plans and furnishing ideas – thanks to the completely adaptable floor plan design. Take inspiration from the following suggestions:
Private Wine Cellar: It doesn't always have to be a classic underground cellar! A modern wine room, equipped with wall to wall wine cabinets, is a much nicer place for hours of enjoyment than a chilly, dark cellar. It's also a great place to welcome guests and share some of the treasures of your wine collection with friends.
Library: Book lovers and collectors can use one or more rooms as a library. Valuable collections and rare complete editions can be read here in fitting surroundings and in a relaxed atmosphere. In the heart of a pulsating city, you can create a quiet retreat for your studies.
Children's Playroom: Less quiet, but certainly no less enjoyable, is a separate children's play area. Due to the great space, you can go far beyond the possibilities of the ordinary children's room. For example, you can create a pirate play area with a life-size ship, surrounding islands and hiding places. Your children will be thrilled!
Music Room: Do you play an instrument or have you always wanted to learn? Then set up your very own music room. Sit at your magnificent grand piano while you practice the most beautiful pieces by Debussy, Chopin or Liszt and enjoy the inspiring view over the city at the same time.
Fitness Area: Your own fitness studio located above the rooftops of Berlin? In GLINT this is easily possible. Use one of the rooms to keep yourself in good shape and build muscles. Because there is so much room available, you can easily accommodate several large cardio machines or weight stations. And you can always find an outstanding personal trainer thanks to the excellent concierge services of Raffaele Sorrentino, included with GLINT.
Massage Room: After a strenuous training session or a long working day, it is important to relax. A separate massage room is ideal for this purpose. With gentle lighting and pleasant sounds, you can release tension and feel rejuvenated. Here, too, our concierge service will be pleased to arrange an appointment with the best local experts.
Cinema and Gaming Rooms: You can also relax in your home cinema and gaming room. On a floor-to-ceiling, concave HD screen you can enjoy Hollywood blockbusters and the best computer games as if you were right there with the characters.
Private Gallery: Few cities in the world have such a vibrant art scene as Berlin. That's why so many collectors are attracted to the capital. So what could be more natural than bringing your treasures together in your own private gallery? Your guests will also be thrilled when they are invited for an exclusive guided tour.
Stargazing with Friends: Another great way to enjoy time with friends is taking in the spectacular view of the night sky over Berlin. The residents of the GLINT Rooftop Apartment L25 RT have exclusive access to the unique glass dome with a 360-degree view over Berlin.
All these ideas and other special wishes can be implemented on request and in consultation with the architects – contact us to find out more.



Buying an apartment in Berlin-Mitte: More than just comfort
If you are toying with the idea of buying an apartment in Berlin, it is also important to consider economic factors. GLINT also has obvious advantages here. As the Wilhelminian complex is a heritage-listed building, a governmental scheme (the AfA) for monuments, gives you tax advantages when buying a GLINT apartment. This also applies to the 600 square metre penthouse apartment "The 600".